Specifications of the Touch Panel
Resistive Touch Panel
Circuiting Rating:5V DC, 35mA

Surface Hardness: 3H

Light
Transmission

Film+Film>77%

Hitting Life Expectancy: Over 1 million

Film+Glass>83%

Scoring Life Expectancy: Over 100,000

Contact Bounce:<10ms

Operating Temperature:-20℃+70℃

Resolution:4096x4096

Storage Temperature:-30℃~+80℃

Linearity:1.5%(<1.0% By Request)

Choices of Glass Thickness:0.55mm, 0.7mm, 1.1mm, 2.0mm,3.0mm

Operating Force:10g~100g

Choices of Glass: Normal Glass, Chemically strengthened glass

Structure:

Overlay/Membrane switch+OCA+ITO FILM/GLASS+ITO FILM+OCA+Support
Capacitive Touch Panel
| | |
| --- | --- |
| Circuit Level: | 3.3~5V DC, 35mA |
| Transmission: | >89% |
| Contact Bounce: | <2ms |
| Resolution: | 1024*1024 |
| Surface Hardness: | 6H |
| Input Mode: | Finger or stylus pen |
| Life Expectancy: | Over 225 million |
| Operating Temperature: | -10℃ to 60℃ |
| Storage Temperature: | -20℃ to 70℃ |
| Lens Material: | Chemically strengthened glass |
| Glass Thickness: | 0.4mm, 0.55mm, 0.7mm, 1.1mm, 1.8mm |
| Structure: | PMMA/PET/GLASS+OCA+GLASS/GFF/GF |
| Interface: | IIC, USB |
How Does Touch Panel work?
Different people work differently. So it is with different types of touch screens. Some can easily detect and distinguish multiple keys at the same time. However, some others can only sense one finger at a time. If you try to press two places at the same time on this type of screen touch panel, the screens will be rather confused. Here are some of the main technologies listed below:
Resistive Touch Panel
Resistive touch screen panel (the most popular technology recently) works a bit like "transparent keyboards" overlaid on top of the screen. The flexible upper layer of conductive polyester plastic is bonded to the rigid underlayer of conductive glass and separated by an insulating film. When you press the screen, you can force the polyester to touch the glass and complete the circuit - just like pressing a key on the keyboard. The chip inside the screen shows the coordinates of the location you touched.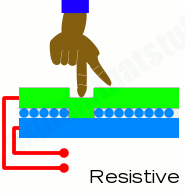 When you press a resistive touch screen panel, you push two conducting layers together so they make contact, a bit like an ordinary computer keyboard.

Capacitive Touch Panel
The capacitive touch screen panel needs to achieve multi-touch, relying on the electrodes to increase the mutual capacitance. Simply put, the capacitive resistive touch screen is divided into blocks. Each set of mutual capacitance modules is working independently in each area, so the capacitive screen can be independent. Detecting the touch situation of each area, and after processing, simply implement multi-touch. When you bring your finger up to the screen, you alter the electrical field by a certain amount that varies according to where your hand is.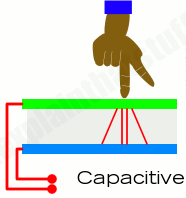 In a capacitive touchscreen, the whole screen is like a capacitor. When you bring your finger up close, you affect the electric field that exists between the inner and outer glass.

Touch Panel Solutions

We provide resistive and capacitive touch screen solutions to you.
Capacitive Touch Screen solutions
We offer a wide range of Projected Capacitive Touch Screen solutions to the market. There are four different PCAP construction options to choose from including Glass-Film-Film (GFF); Glass-Film (GF) and Double-Sided-ITO-Glass (GG2); Glass-Glass (GG); We are sure to have the perfect fit for your application's requirements.
Resistive Touch Screen Solutions
We offer a full range of 4-, 5- and 8-Wire Resistive Touch Screens that are available in Film-Glass (FG), Film-Film-Glass (PL) and Glass-Film-Glass (GFG) constructions. Our resistive touch screen solutions are a cost-effective, durable and versatile solution for many applications.